The Development of MyCAD
Axia Digital worked with Atlantic Technological University (ATU) to develop the first digital version of the National Competency Assessment Document (NCAD) for the department of  Nursing at their Donegal campus in Letterkenny. The result is the My Competency Assessment Dashboard (or MyCAD) website.
The site is used by students of all years and has been adopted and embraced by all those involved assessing students in hospitals and community settings. MyCAD mirrors the paper NCAD document, presenting content and processes in a way which users are familiar with. As a result, there is no training required for people to use the site.
Challenges and Security
The project was executed at a time where confidence in digital systems in the Irish health sector was low due to the cyber attack on HSE (Ireland's equivalent to the NHS). This presented a challenge for our team. As a company, Axia takes the security of our customer websites very seriously, and so every care was taken to ensure that the system we produced was secure.
Irish Education Award Winner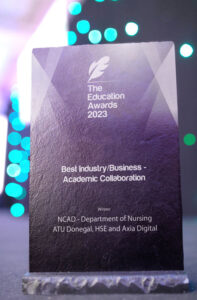 Axia's efforts to produce the MyCAD website were recognised at the Irish Education Awards in April 2023. We were awarded Best Industry / Business-Academic Collaboration for our work with ATU's Department of Nursing. MyCAD was described by the panel as "An excellent example of collaboration between academia and industry, taking innovative approach to a practical problem facing many students in placements, whether it be clinical or other."
Dr Louise McBride, Head of Nursing and Healthcare at ATU, commented:
"The MyCAD E-portfolio project collaboration brings together academic, industry and our HSE clinical nursing partners to develop a cutting-edge online access dashboard for nursing students and staff for a competence assessment e-portfolio in our nursing education programmes. We're delighted to see our efforts being acknowledged and these nominations are a testament of collaboration, commitment and success of ATU with HSE North West Nursing and Axia Digital."
A dissemination event that was held soon after the award show galvanised interest in the digital NCAD from Universities across Ireland who also deliver Nursing programmes.
Read more about the project and the award here.